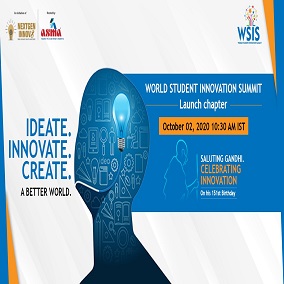 World Student Innovation Summit
If you are a believer of an Innovation-driven future and want to understand how Innovation is adapted in schools, higher educational institutes, and corporates, you definitely need to be a part of this event!
ASMA and NextGenInnov8 cordially invite you to join us at the World Student Innovation Summit – Launch Chapter, a student-led platform for Innovation. The program is to be conducted in the memory of Mahatma Gandhiji on his 151st birth anniversary. With our Esteemed Guests and Eminent Speakers, this initiative intends to give rise to a movement for transformation in India as well as overseas. This unique, student-led program seeks to motivate the youth and make the world a place of innovation.
Highlights of the event:
1. Presence of eminent personalities from Schools, Colleges and Corporates
2. Association of key brands and Governing bodies like AICTE, NITI Aayog, CBSE, Microsoft, Amazon, IIM, NIIT, etc
3. Launching of Suraksha Box, a UV light sterilization box created by a 14yr old child prodigy Aditya Pachpande, which is Patent Published by Govt. of India and approved and recommended Certification by CSIR-CMERI (ICMR Approved Lab) of Govt. of India
4. Mission 15.1k- a CSR initiative to donate 15,100 Suraksha Boxes to the needy and underprivileged, to fight COVID-19
5. Launch of an Innovation-driven company- NEXTGEN INNOV8
The event will witness the participation of representatives across the globe, mainly India, USA, South Africa, Austria, Poland, Malaysia, and Italy
Date: 2nd October 2020
Time: 10:30 AM