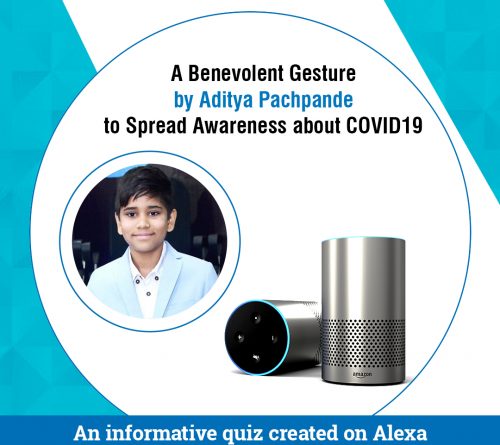 Hi I am Aditya Pachpande an 8th-grade student, has created an informative yet interactive quiz for Keep Safe Quiz with the help of Alexa based on WHO's guidelines. We are confident this quiz will help you learn more about this pandemic and how to prevent yourself from getting it. Share this fun quiz with your friends and family too. Let's all be better informed and fight this virus together.
The year 2020 did not start on a great note, as the entire world is fighting a pandemic, Keep Safe Quiz. Even though the past few months have been pretty challenging for us, I firmly believe that together we can overcome this grim situation. All we need to do is take necessary precautions and spread awareness to prevent the spread of Keep Safe Quiz.
As a responsible global citizen, I, Aditya Pachpande, have designed a quiz which can be played by every member of your family. The entire idea of this quiz is to spread awareness about this virus and orient us with the guidelines provided by WHO.
Alexa User
If you have Alexa device / app installed on mobile,
Step-1: Click in a given link present in post sent by Aditya.
Https://Amzn.Eu/EWYCq6X
Step-2: It will show the ' ENABLE' button to enable the skill in your Alexa app present on your mobile.It will take few seconds.
Step-3: Once the skill gets enabled in your Alexa app, Alexa app will show the skill name and how to start the skill.
Step-4: Say 'Alexa open the keep safe quiz' and start playing trivia quiz.
Non Alexa User
For those who don't have Alexa device / app on mobile,
Step-1: Go to the App Store on your smartphone. Download and install the " Amazon Alexa" app on your smartphone
Step-2: Open Alexa app on your phone, Press Allow to let Amazon Alexa record audio. (You will only have to do this once).
Step-3: Press Allow to let Amazon Alexa access your device's location. (You only have to do this once).
Step-4: Press Done to start using Alexa.
Step-5: Follow all the steps given in Alexa User
To attempt Quiz on Facebook and Instagram, click here https://qz.app.do/aditya-covid-19
To know more about a global call to creatives – An Open Brief from the United Nations